Leider bin ich in letzter Zeit nicht groß zum Schreiben gekommen, aber das kann ich ja jetzt noch hervorragend nachholen. Ich habe vor sehr langer Zeit ein Kleid aus einem blau-weiß gestreiften Stoff angefangen und (warum auch immer) nie beendet. Beim Schrank aufräumen ist es mir wieder in die Hände gefallen und ich habe beschlossen es zu überarbeiten und fertig zu stellen, denn ich bin immernoch sehr verliebt in diesen Stoff.
I haven't found any time to write a post in the last months so I have to do it now! Some years ago I made a dress out of blue/white striped fabric and I never finished this project…(god knows why…?!) I found this project in my wardrobe and decided to finish it now, because I really love this beautiful fabric!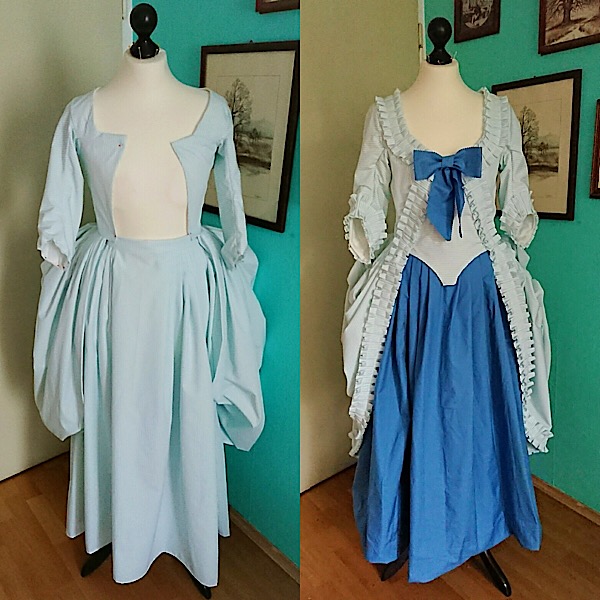 Hier sieht man links den ursprünglichen Zustand und rechts die überarbeitete Version. // On the left side you see the original version before my redo – on the right side the completly finished Outfit.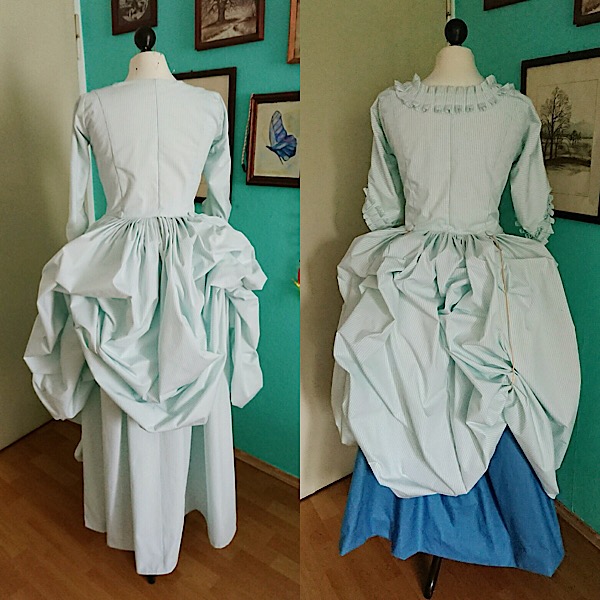 Leider war mit die alte Version an den Ärmeln zu eng und auch die Front viel zu weit, zudem hatte ich nichts vom Stoff übrig für einen Stecker. Also habe ich den Rock geopfert um daraus neue Ärmel, einen neuen Frontteil vom Bodice und einen Stecker zu schneiden. Alles übrige habe ich für Dekoration und mehr Rockfülle genutzt. Für den neuen Rock hatte ich einen wunderbar passenden Stoff im Schrank, von dem leider nicht all zu viel da war (wofür auch immer ich den mal gekauft hatte…?!) ich hab mit viel rechnen einen Mogelrock gefertigt. Man muss nur beim Raffen aufpassen, dass nichts davon zu sehen ist. Das Kleid kann sowohl als Robe a l'anglaise als auch als Robe a la polonaise getragen werden.
Unfortunately the sleeves were to tight, the front to wide and I had nothing left for a stomacher. So I decided to use the skirt for new sleeves, a stomacher, a new bodice front and some decoration (and all the leftover was used for more volume of the bodice skirt). And I found a well matching blue fabric in my wardrobe for a new skirt, but it wasn't enough for a skirt (I wonder why I bought not enough of it?!) So I calculated a lot and used for the upper back skirt part another fabric. The dress could be worn as Robe de l'anglaise and as Robe de la polonaise.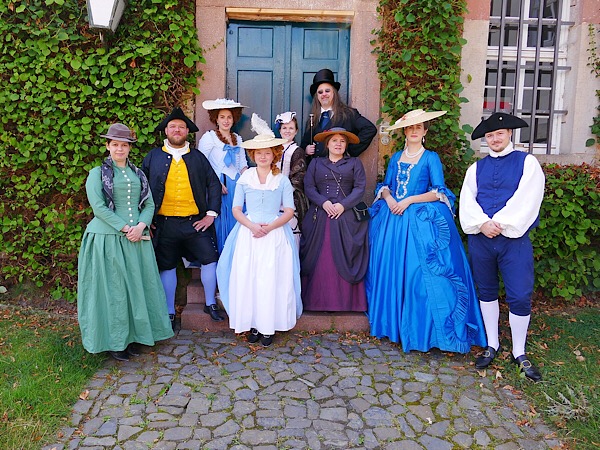 Direkt nach Fertigstellung des Kleides war ich in Fulda und musste es natürlich gleich ausführen. Wir haben dort das Schloss Fasanerie besucht. Die Schlossführung war sehr interessant und die Parkanlage ist wunderschön.
I visited Fulda and had to wear this dress there – we visited the Fasanerie Palace with a guided tour and after that we had a beautiful walk through the garden. Very beautfiul place that I highly recommend!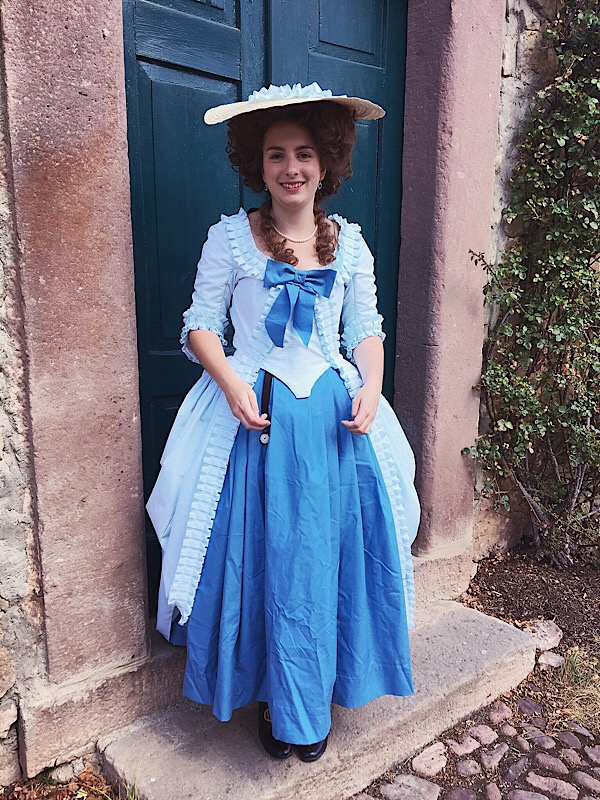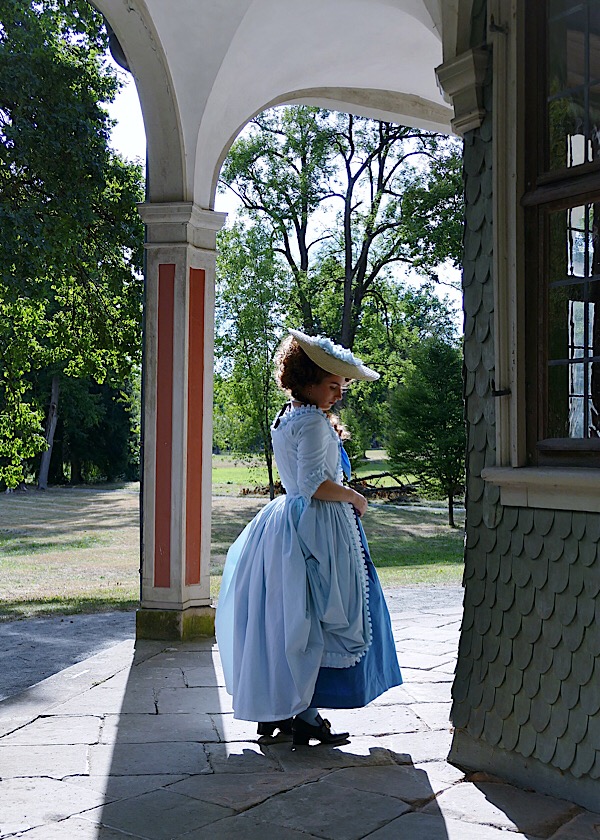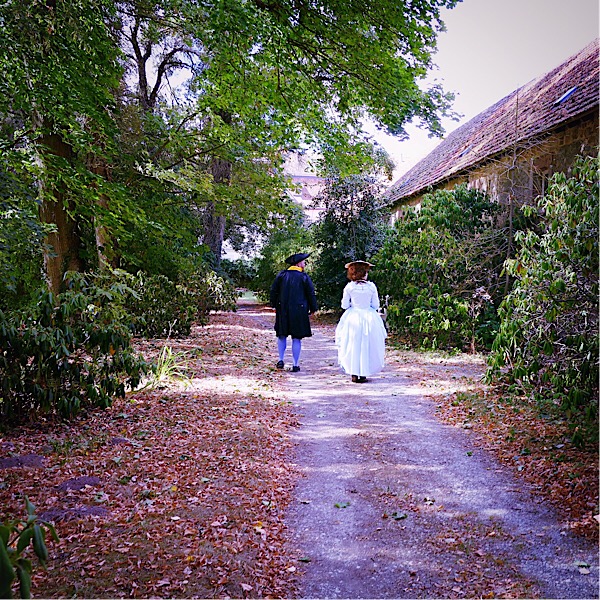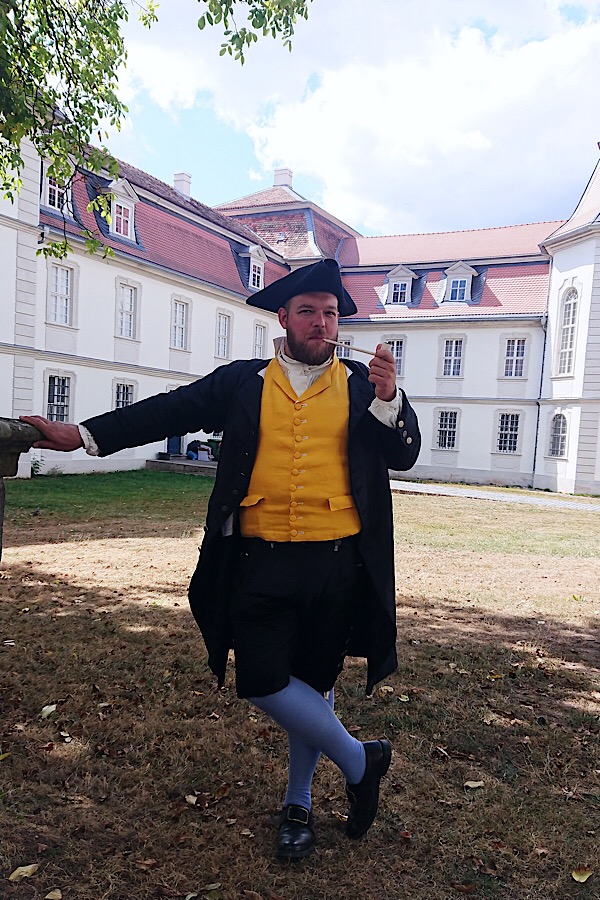 Sehr zeitknapp habe ich auch die Jacke für meinen männlichen Begleiter fertig bekommen. Leider sind mir einige Fehler unterlaufen und sie ist bei weitem nicht perfekt, aber für die allererste dieser Art bin ich damit erstmal zufrieden und wage mich sicherlich bald an eine weitere.
I finished the jacket for my friend just some hours before but I finished and he wore it very proudly. There are a lot of mistakes in it and it is really far from beeing perfect, but at the moment I am happy with that and I am sure that my next jacket will fit quite better!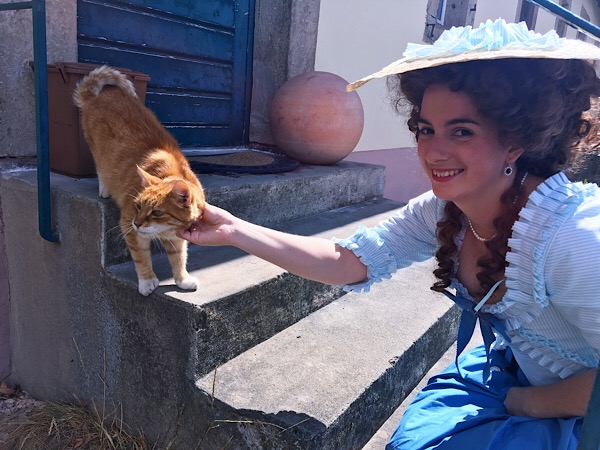 Wie perfekt die Katze farblich zu meinem Kleid passt…leider wollte sie nicht für mehr Fotos mitkommen…warum auch immer XD
How perfect does this dress match my dress?! But she didn't like to come for more photos, can't imagine why…XD